Q. Something I don't do on my blog? A. review womenswear. Q. Will I be venturing into this? A. No... well kinda. Ok enough of the self interviewing. In a nutshell, unlike the menswear focused "model envy" feature I've previously done this is just my "two cents". Quick and (by my standard) short. Underneath my mug -roll your eyes to the left- is two pages of many of my notes from shows. I don't necessarily take notes for publishing, like a diary I like to keep account of shows I see. My instinctive feeling towards everything from set, music and of course the garments are jotted in this inexpensive pad. I'm not easily influenced but this method is a "safety net" for my opinions. Digression done. Here's a glimpse of my thoughts on LFW ss11' the bitches *cough* women edition...
Hannah Marshall s/s 11' _____________________________________________Felder Felder s/s 11'
| | | | |
| --- | --- | --- | --- |
| | | | |
Meadham Kirchhoff s/s 11'_____________________________________Burberry Prorsum s/s 11'
| | |
| --- | --- |
| | |

Not sure if it's the Candy- O flashback or sexy gauntness that won me over but like clockwork Hannah Marshall's "I don't give a f*ck, I can drink scotch with Harry, do the nasty without taking any clothes off and head back to being boss of a city block" collection was up my street. Felder Felder joined a sea of skater skirts but unlike others the German twins Annette and Daniela Felder didn't sink in execution. Meadham Kirchhoff is marmite in fashion, fairly so if I'm honest but the show held at the TS venue; Waterloo old eurostar platform (which was a LFW highight!) ... rocked my frumpy socks (you might find that funny if you saw the collection... or not). Long story short I really loved the the grunge in summer looks. Show's with a set and a story are always appreciated. It makes designer's direction clearer and credible in my opinion. No doubt about Burberry Prorsum being the hot ticket, Mr Bailey didn't disappoint though sure a few models would disagree with the shoe dept'. English rose married a biker and studded and leathered trenches were born. Like Celine sung my heart will go on for this brand and the titanic that is Burberry shall never sink in impressing this sailor.
Mark Fast s/s 11'______________________________Erdem s/s 11'
| | |
| --- | --- |
| | |
Todd Lynn s/s 11'_______________________________Marios Scwab s/s 11'
| | |
| --- | --- |
| | |
Cob web knitting, fringing and platforms. I enjoyed Fast's collection but feel it only right he credits the street walkers who inspired these pieces. On a model it's "sexy chic" but poor Honey pon di corner just gets an STD and a dirty dollar (sounds better than pound). Next... The Erdem show held Bedford Square Gardens was "beautiful"; words with such perfume make me sickly, but the semantic is the only fit. Garden prints in a s/s show are as predictable as a wig on Nicki Minaj's head but this lace and flower filled showing didn't alert my allergies. Olive green and taupe complement one another and that mid sleeved, shirt collar maxi makes me think of lunch alfresco. One of my favorite's Todd Lynn brought "biker snakes", the collection named "Genesis Redux" boasted the expected clean lines and patchwork leather. The suede sneakers and McQueen nod platforms were crafted by Christian Louboutin and had all the PR girls foaming at the mouth. Moving on... Marios Schwab's collection was a good'un... models capped with choppy mullets circa Heidi Fleiss took to the floor in biker staps, silky slips with lace edges and tattoo prints.
Worth a mention
... otherwise this post won't end.
Mary Katrantzou s/s 11'______________________________ House of Holland s/s 11'
| | |
| --- | --- |
| | |
HIT_______Holly Fulton s/s 11'______MISS
| | |
| --- | --- |
| | |

Mary Katrantzou's "C'est ci nas pas une chambre" collection caught my interest, I recently shot Star Hu's new collection which was inspired by lamps, Katrantzou's collection picked up where star stopped having household prints and skirts that could double up as main feature in a living room. The baroque collection drew inspiration from the likes of Helmut Newton and Guy Bourdin, the designer said of their work in the 70's "the interiors in the pictures were just as important as the models". I have to mention HoH, shunned and snubbed by some of the high-ups in the land of fashion for me Henry has finally somewhat silenced the naysayers. Wasn't the best thing since sky + but his banana print , above the knee skirts,metallic leathered pieces, denim (he is the king of the double denim, personally and collectionly) and pleats which reminded me of the fans I use to create during detention were triumphant. Gwaaaaan Henry! It's scary how quickly I can move from Chelsea boy to Kingston yute. KMT in a royal manner of course.
Lastly Holly Fulton's collection was a metaphor to LFW on a whole for me. Though the stepford wife year 3000 was commendable no woman should wear a glorified scrubber, pun intended. Even Joan Collins who was Fulton's inspiration this go round would snarl at that... look...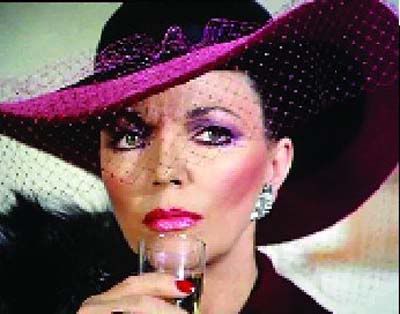 Next S/S you breasted folk will be showered in sheer/leathered/exposed panels/neon/pastel/monochrome/negligee and plant/flower prints. All together at your own peril... direction not surprising at all. Hit and Miss like Tina and Ike.
Highlights: Alexander McQueens memorial at St Paul's Cathedral, nothing but a wig on at Charlie Le Mindu, Veruschka closing for Giles and speaking of closing... Nina Porter... Burberry Porsum. Need I say more? click that lazy triangle below and check out my mate Lawrence's footage...
Stopping now because putting a post together is like writing in my journal, it can go on forever and this was suppose to be "short and sweet" as I typed 20 mins ago. Oh and I'm getting a little annoyed that I can't wear most of the above unless I have the ole nip tuck. On that note. Next post. Soon come!